Watch Video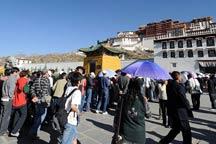 Play Video
China's central government says it will boost domestic tourism development by relaxing market access, welcoming foreign companies and slashing ticket prices for tourist spots.
The State Council has issued measures aimed at speeding up the development of China's tourism industry. The government is looking to revitalize domestic tourism competition by introducing foreign tourism companies.
The government is about to loosen market access, break down industrial and regional market access, and streamline the administrative admission process. They are also vowing to push forward the transformation of domestic tourism businesses.
Shi Peihua, vice president of the China Tourism Academy, is one of the experts who helped draft the new policy.
Shi Peihua, Vice President of China Tourism Academy said "Integrating the industry is not purely about focusing on the industry itself. The policy places more emphasis on trans-sector integration. So it could form a comprehensive industry. That will be the future development trend."
The new policy allows for foreign travel companies to enter the domestic market. Foreign invested travel agencies will gradually be allowed to run foreign tour businesses used by Chinese tourists.
Experts say the changes are likely to have an enormous impact on the domestic travel industry.
Shi Peihua said "This will be a huge shock to the domestic industry. Firstly, foreign companies will force domestic large enterprises to upgrade its competitiveness at international competition. Secondly, it will help smaller enterprises improve their services. And thirdly, the combination of domestic and foreign companies will give the market double advantage."
Data from the Tourism Academy shows the tourism market in China has huge potential. The country will see over 54 million tourists travel abroad this year. That's an increase of 11 percent compared with last year.
And huge profits are waiting to be made. Trade deficit of the industry is set to reach 5 billion U.S. dollars, and could hit 20 billion dollars in 2015.
Editor:Xiong Qu |Source: CNTV.CN