Watch Video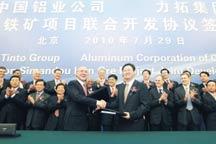 Play Video
Thursday's signing ceremony is widely expected to be a formalization of the synergy agreement between Chinalco and Rio Tinto. Last year's friction seems to have eased and relations between the two companies are showing signs of improvement.
Chinalco and Rio Tinto are getting back together, less than a year after an acrimonious breakdown of a massive purchase deal.
Relations between the two crashed in June, when Rio walked away from a 19.5 bn US dollar deal during the height of the financial crisis. Instead Rio opted for a right issue and an iron ore joint venture with BHP Billiton.
In July, four Rio Tinto staff were arrested in Shanghai and charged with commercial bribery during fraught iron ore pricing talks.
A Chinalco director reportedly says Rio Tinto has no business credibility and it is likely its staff were suspected of breaking the law, comments he denied two days later.
But despite all the unhappiness, Chinalco remains Rio's largest shareholder with a 9 percent stake. And the two sides are working to repair relations.
According to Australian media, the two companies are negotiating more general terms on iron ore exploration in China as well as bauxite and alumina refining interests in North Queensland. Rio Tinto's interest in a copper and gold mine in Mongolia are also being discussed.
Officials with the state-owned Chinese company say, Chinalco is looking for investment opportunities worldwide, and cooperation with Rio Tinto could help to diversify its business away from aluminum into other commodities.
Editor:Xiong Qu |Source: CNTV.CN