Watch Video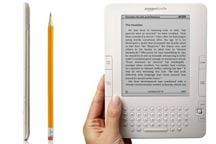 Play Video
Consumers can now buy much more reasonably priced electronic readers. Manufacturers are heating up the competition, in the wake of Apple's iPad joining the market.
Electronic readers may be gaining mass appeal as the devices' price tags keep dropping.
Amazon.com just launched a new wireless-only Kindle for $139 - a steep drop from its first Kindle at nearly $360 in 2007. The low-priced model is smaller, lighter and faster than other Kindles and said to store up to 3,500 books.
This launch is the latest move in an ongoing fight amongst e-reader sellers to out-slash each other on cost. Amazon's latest Kindle price is just $10 less than its closest rival, Barnes & Noble's $149 wi-fi Nook.
At $499 Apple's iPad can't compete on price which, for now, is key in grabbing e-reader marketshare says CNET Senior Editor Dan Ackerman.
Dan Ackerman, Senior Editor of CNET said "Amazon goes to great lengths to point out that the Kindle is only a book reader. It's meant to enhance the reading experience. That's why it's not backlit, does not have a touchscreen, does not have color. But when you're competing against the iPad that does all those things for a fairly modest price, the Kindle really needs to simplify and bring the price down and that's what they've done with this new $139 model that only uses wi-fi."
Price cuts do seem to be successfully drawing converts from the printed world. Amazon says since it shaved the price on the Kindle 2 to $189 its growth rate has tripled and e-books are now outselling hardcover books. Amazon maintained that price tag on the third generation Kindle also unveiled on Thursday.
But to stave off long term competition from Apple, analysts say Amazon and others will have to keep trimming prices.
Dan Ackerman said "Once we get into the holiday season for 2010 they're even going to have to drop the price even lower, maybe $99 and that's probably the sweet point for a small six-inch, black and white, non touch screen e-book only reader."
Whether prices drop further or not Amazon says the lower priced e-readers are starting to attract mass market appeal.
Editor:Xiong Qu |Source: CNTV.CN