Watch Video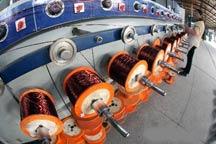 Play Video
China's vast manufacturing sector further cooled last month,as the government reined in credit and held firm in efforts to deter real estate speculation. The official purchasing managers' index, which is a comprehensive gauge of industrial activity, fell to a 17-month low in July.
July's purchasing managers' index, or PMI, fell to 51.2, but that's still above the 50 mark, which indicates the economy is expanding. The PMI is designed to provide a timely snapshot of business conditions. A figure above 50 indications expansion, while below means contraction.
Although the PMI has now fallen for three months in a row, most analysts took comfort from the result.
Cai Jin, Vice Chairman of China Federation of Logistics and Purchase said "There are several reasons leading to the drop of the index. One is seasonality. In July and August the national economy traditionally slows down. Because of the extreme weather, many industries have their equipment checked in summer. It leads to weaker manufacturing activities. Supply slows down as a result."
Other factors includes the government's tightening measures. Analysts say the slowing down of growth is healthy.
Cai Jin said "I think the change of PMI is a positive indication. Although the index has fallen for three months, the drop this month is different compared to the previous two months. In May and June, the slowing down was due to the drop of demand, but in July, it's mainly caused by falling supply. The demand has stabilized. The shrinking supply will attribute to market balance. It's a positive adjustment."
Markets were rattled Friday by speculation the index could fall below 50. But now the index shows China's slowdown is moderate. and economy is stabilizing.
Editor:Xiong Qu |Source: CNTV.CN