Watch Video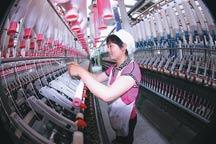 Play Video
The textile garment industry was one of the hardest hit in the financial crisis. Its Purchasing Managers' Index used to be one of the worst-performing out of China's 20 major sectors. But in the first half of this year, China's textile garment industry put on its best performance in recent history.
The China National Textile and Apparel Council says output of China's major textile manufacturers increased by more than one quarter in the first half of this year. Exports climbed 22 percent while domestic sales jumped nearly 30 percent. This marks the fastest growth in history for the sector. In the largest textile market in Changshu, Jiangsu province, the price of cotton yarn started to climb from last October.
Zhang Yuchen, Head of Cotton Yarn, Hutang Textile Center said "The price of cotton yarn has surged since last October, by around 40 percent. The appreciation margin is the highest and the period is the longest in the past 10 to 20 years."
The crisis is fading, and business is getting better. Some large dealers saw great profits in the first half of this year, even more than that for the whole of 2009. But others still are going out of business. Before the crisis, there were more than 500 dealers in the marketplace, but now 50 of those have quit the business.
For clothing manufacturers, these are difficult times. Chenfeng Group is one of China's largest clothing manufacturers. The surging prices of raw materials have increased by 15 percent, while fluctuation of the Euro has added up to another 15 percent in costs. The group's chairman says prospects for the second half of the year are fraught with uncertainty.
Yin Guoxin, Chaitman of Chenfeng Group Co., Ltd. said "Back in 2008, there was only one crisis in the market, but now the situation is very complicated. We feel there is great pressure for us in the second half of the year."
Some manufacturers have turned their attention to boosting sales in the western region. Others are working on improving and upgrading their products, hoping to improve the situation.
Editor:Xiong Qu |Source: CNTV.CN