Watch Video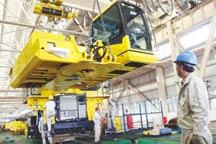 Play Video
Looking at the breakdown of July's PMI figures, the industrial output index dropped the most. Analysts see it is the positive sign of economic restructuring, which shows macro-economic controls are taking effect.
The sub-index for industrial output dropped for three months in a row. The index hit 52.7, down from 55.8 in June. Analysts say economic restructuring efforts are paying off.
Zhao Ying, Researcher of Inst. of Industrial Economics, CASS said "I think the drop in the industrial output index is expected. Last year our major task was to ensure economic growth, to curb a freefall of the economy. That goal was achieved. This year, the main goal was to restructure the economy. The macro-control policies are taking effect, leading to the slowdown of industrial expansion."
A drive to improve energy efficiency is taking a toll on heavy industry, pointing to a further slowdown in demand for imported raw materials and commodities.
Analysts say the current correction is healthy, and a sharp slowdown is unlikely.
Zhao Ying said "I don't think the economy will experience a double dip recession. So far the slowdown has been healthy. The economy is on track towards relying more on domestic demand. External demand is also gradually recovering."
Experts say whether the tightening on the real estate sector will affect other industries is still yet to be seen.
Related stories
Editor:Xiong Qu |Source: CNTV.CN