Watch Video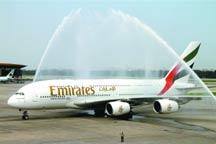 Play Video
An Emirates Airbus A380 made its China debut over the weekend at Beijing International Airport. It's the first super-jumbo to land in China on a scheduled service.
This is the largest passenger airliner in the world. It's the first time Emirates has flown the A380 from Dubai to Beijing. The super-jumbo arrived with over 500 passengers on board, who gave the experience a resounding tick of approval.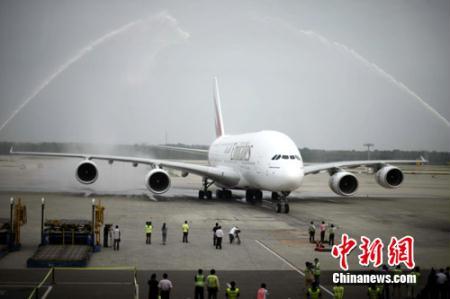 An Emirates Airbus A380 made its China debut over the weekend at Beijing International
Airport.
One passenger said "It was very exciting. I didn't notice it was an Airbus A380 at first. But the two-level structure made me wonder, and I asked a flight attendant."
The Emirates Airbus A380 has a total of 517 seats, and flies between Beijing and Dubai daily. This giant of the airliner world is aimed at supporting surging bilateral trade between the United Arab Emirates and China.
Liu Rongzhu, Vice President of Greater China, Emirates said "The number of travelers is rising by about 36 percent annually. To put a larger carrier on this route can meet the needs of both cargo and people."
Few airports around the world are equipped to meet the daunting task of receiving the super-sized carrier.
Beijing Capital International Airport was twice upgraded to accommodate the A380. There are now 17 airport gates designed specifically for the super-jumbo. Each is equipped with 3 jetways, capable of boarding and disembarking passengers from the 2 decks.
Zhang Guanghui, General Manager of Capital International Airport Co. Ltd. said "Our airport is now capable of receiving the world's largest airliner. This means we can deal well with scheduled routes using the A380."
Since its first commercial flight in October 2007 with Singapore Airlines, over 33 A380 airliners serving various carriers have transported over 6 million people safely to their destinations.
The A380 was hit with many setbacks during its difficult development period. But since taking on the world's runways, this super-jumbo has outperformed expectations and promises future success of giant proportions.
Related stories