Watch Video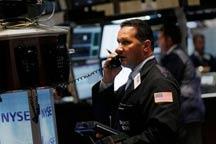 Play Video
Strong results from HSBC and BNP Paribas have boosted European shares which hit a three-month closing high on Monday, to finish above a key resistance level. U.S. stocks closed at their highest level in 10 weeks on Monday, as a weaker U.S. dollar lifted the energy and raw materials sectors. Strong banking results in Europe also added to the upbeat tone and lifted U.S. bank stocks. The S&P 500 pierced key technical levels, ending above its 200-day moving average.
Manufacturing activity in the United States grew in July - marking the 12th consecutive month of gains. That growth, however, was a little hard to come by. The Institute for Supply Management's monthly index showed the sector grew at the slowest pace of the year.
But the number was still better than expected, sending Wall Street to its best close since mid-May.
Fear of a double-dip recession is fading, says Art Hogan, chief market analyst at Jefferies.
Art Hogan, Chief Market Analyst of Jefferies said "What Wall Street is telling us, or at least what the market is trying to price in, is the fact that we are not going to go into recession; we are going to see an economy that slows down but keeps a sustainable pace - up and to the right. We are seeing improvement. It is not the pace of which we saw the first quarter but it certainly is better than what we were pricing in just a month ago."
Research in Motion, the maker of BlackBerry devices, says it will work hard to satisfy security needs of its users and governments. The pledge comes one day after the United Arab Emirates vowed to shut down some BlackBerry services because it could not access encrypted messages, calling that a security threat. Analysts think the two sides will be able to reach an agreement.
In other corporate news: A new hurdle for BP - as it prepares to stuff the ruptured oil well in the Gulf of Mexico with mud in a process called "static kill." BP is now the subject of an insider trading probe by the U.S. Securities and Exchange Commission, according to sources.
Back to the markets now - a 2 percent rally means all three major U.S. stock indices are back in the green for the year.
Oil closed above $81 a barrel on hopes demand will pick-up.
And in Europe, better-than-expected earnings from the banking sector led to a sharp rally.
Editor:Xiong Qu |Source: CNTV.CN