Watch Video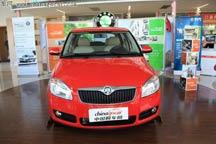 Play Video
Newly released figures show China's auto output and sales in July were down slightly compared to June. But it's not all bad news - both figures are higher than the same period last year.
In the Chinese auto sector, March is the busiest month of the year, recording the largest volume of sales before slowing down by July and August. The market then picks up in autumn, and reaches another high at year's end.
This July, auto output hit nearly 1.3 million units, down by 4 percent month on month, but up 13 percent year on year. Sales were recorded more than 1 million units, down by more than 6 percent month on month, but up 17 percent year on year. Experts say the downturn will continue in August.
Zhao Hang, Director of China Automotive Technology & Research Center said "Auto output and sales will hover at a low level in August, due to the high temperatures and equipment overhaul. August is always the low season for car sales, and dealers are under great pressure for storage space."
Despite the month on month drop, sales of new energy cars increased in July, thanks in part to the country's subsidy policies. The Center for Automotive Technology and Research says low-emission and alternative energy vehicles are becoming more popular. Sales of new energy cars in July were up by nearly 12 percent month on month, while models with emissions under 1.6 liters also sold well.
Related stories
Editor:Xiong Qu |Source: CNTV.CN