Watch Video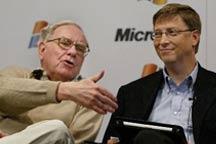 Play Video
Dozens of U.S. billionaires have pledged to give at least half their fortunes to charity. This is part of a philanthropic campaign by two of the world's richest men -- Warren Buffett and Bill Gates. Based on Forbes magazine's estimates of the billionaires' wealth, at least 150 billion U.S. dollars could be given away.
Persuaded by the prodding of investor Warren Buffett and Microsoft founder Bill Gates, several dozen U.S. billionaires pledged to give away at least 50 percent of their wealth to charity.
Among the billionaires joining the campaign are New York Mayor Michael Bloomberg, energy tycoon T. Boone Pickens and media mogul Ted Turner.
Gates, the world's second richest man, and Buffett, the 3rd richest, launched "The Giving Pledge" in June to convince hundreds of U.S. billionaires to give away most of their fortune either during their lifetime or after their death.
Bill and Melinda Gates have so far given more than $28 billion of of their fortune to their foundation.
According to Forbes Magazine, the United States is home to 403 billionaires, the most of any country.
Editor:Xiong Qu |Source: CNTV.CN