Watch Video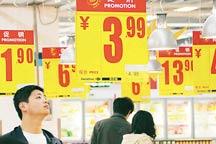 Play Video
Macro economic data is expected from the National Bureau of Statistics on Wednesday. But in Beijing's major market, residents can already attest that prices for meat, vegetables and grain are all on the rise.
In Beijing's Xinfadi produce market, dealers say pork prices have been on the increase since July. Prices for vegetables and grain have also seen a rise.
One vegetable seller said "The price of ginger surged by 2 yuan per kilogram, and potato increased by 0.5 yuan. All vegetable prices are going up."
One grain seller said "The price of rice has gone up by more than 0.5 yuan per kilo, and the price of 20 litre barrels of edible oil has risen by more than 10 yuan."
Out of 60 vegetables, prices for of 27 types have gone up, and the average price is up by nearly 50 percent year on year.
Guo Jie, Deputy Manager of Beijing Xinfadi Agricultural Product Co., Ltd. said "Pork prices have hovered at a lower level in the past year. Most pig farmers made a loss, so they've reduced the amount of livestock on hand. So supply has become short, and prices started to increase in July. With the rise in vegetable prices, high temperatures and flooding in southern China have helped pushed up prices."
Zhang came to Beijing a few years ago, and is responsible for buying food for his family. He spends nearly 50 yuan to buy pork, cowpeas, and cucumber. He says this food used to cost him around 40 yuan.
Zhang Jingshun, Beijing Resident said "There are six people in my family. I used to spend about 1,800 yuan every month to buy vegetables, eggs, oil, and other food. But now prices have gone up, I have to spend 200 yuan more."
Zhang is not alone in his dilemma. Citizens are feeling the pinch of the price surge, but most say the increase is bearable - for now.
Editor:Xiong Qu |Source: CNTV.CN