Watch Video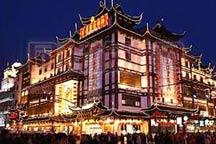 Play Video
In Shanghai, even high temperatures aren't deterring visitors from flocking to Expo Park. Now Expo fever is spreading to the whole city, and Shanghai's businesses are enjoying bustling trade.
The 30 meter long queue isn't for a pavilion in Shanghai's Expo Park, but at a restaurant selling steamed buns in Shanghai's Yuyuan Garden. It takes around 2 hours to place an order for the restaurant's famous xiaolongbao, and another 30 minutes to wait for a table. The manager says nightly sales during the Expo season have surged by nearly 30 percent.
Tong Gang, Assistant Manager of Nanxiang Steamed Bun Restaurant said "Customer volume at night is much more than in the afternoon, and our chefs are struggling to meet customer demand."
Restaurants aren't the only businesses enjoying thriving trade. Major tourist attractions in Shanghai are also welcoming more visitors at night. The Oriental Pearl TV Tower is the top choice for visitors to visit after their tours in Expo park. The number of visitors at night has surged 50 percent.
Cai Qi, Deputy Manager of Shanghai Oriental Pearl Co., Ltd. said "Rush hour starts at 7PM, and lasts till 10PM. Visitors arrive in an endless stream."
Aside from experiencing local cuisine and sights, shopping is a must-do in Shanghai. The No.1 Department Store on Nanjing Road is witnessing busy trade every night. Staff say business at night is even better than during the weekend.
Gong Mingtong, Staff of Shanghai No. 1 Department Store said "Business used to be better on the weekend than during the week. But now during the Expo, business on weekday nights is surpassing that of weekend."
The 2010 World Expo has created a windfall for Shanghai's catering, tourism and retail sectors. With over two months to go until the curtains fall, businesses are doing what they can to make the most of Expo fever.
Editor:Xiong Qu |Source: CNTV.CN