Watch Video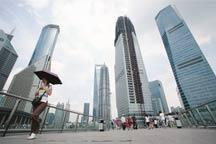 Play Video
Other key economic figures were also released today. They reflected more sustainable economic growth in China.
Industrial production realized steady growth. The National Bureau of Statistics says the total value added output was up 13.4 percent year-on-year. But that's 0.3 percent lower than in June.
The growth rate of urban investment in fixed assets dropped from a high level the previous month. The country's private investment has maintained a growth rate of 31.9 percent from January to July.
To the end of July, private investment has accounted for over 52 percent of urban investment in fixed assets, up 2.7 percent compared with the same period last year.
The bureau also says property investment rose 37.2 percent from January to July.
These figures reflect a comprehensively stable economic condition.
Sheng Laiyun, Spokesman of National Bureau of Statistics said "China's economic development is still maintaining strong momentum. As the country is approaching a higher level of its industrialization and urbanization, China still embraces robust investment and consumption requirement potential."
Growth in China's industrial development has slowed since May. And there were concerns about whether China could maintain sufficient momentum to continue rapid economic development.
Spokesman Sheng Laiyun says a temporary and moderate drop in some figures will conducive to the country's sustainable development.
Editor:Xiong Qu |Source: CNTV.CN