Watch Video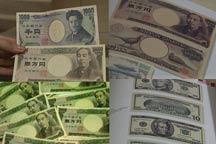 Play Video
The yen continues to rise against the dollar, after the US Fed Reserve took steps to bolster the fragile economic recovery. Investors sold shares in Japanese exporters on the news.
The dollar hovered within sight of a 15-year low versus the yen, slipping to 85.3 yen and edging towards the 84.8 yen it hit last November. A drop below this would take the greenback to a 15-year low.
Japan's Finance Minister Yoshihiko Noda earlier warned that sudden moves in the foreign exchange markets, could hurt the stability of the Japanese economy. He called the foreign exchange moves "one-sided", saying he was watching the market closely. However, one of Japan's top government banking officials sought to temper the panic, pointing out that while sudden moves are damaging, not all is bad news with the strong yen.
Kohei Otsuka, Japanese Vice Banking Minister said "The strong yen is not necessarily a bad thing. It is of course problematic. While for those in the exporting industry or exporting products an excessive surge in the yen is a negative issue, on the other hand a strong yen is good for domestic demand. That is why it is necessary to send out a balanced message on the yen."
Editor:Xiong Qu |Source: CNTV.CN