Watch Video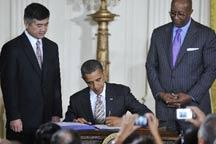 Play Video
For decades, Americans have seen labels saying "Made in China" but that may be about to change. U.S. President Barack Obama signed a bill aimed at easing costs for U.S. manufacturers on Wednesday. It's part of a "Made in America" agenda that Obama's Democrats are pushing ahead of the November congressional elections
The new legislation will reduce tariffs on materials used by American manufacturers. Obama says this bill will hasten the U.S. economic recovery.
Barack Obama, US President said "The answer isn't to stop building things, to stop making things; the answer is to build things better, make things better, right here in the United States. We will rebuild this economy stronger than before and at its heart will be three powerful words: Made in America."
The legislation easily sailed through Congress last month and has the support of many American businesses.
Supporters say that by bolstering American manufacturing, the initiatives will reduce the huge U.S. trade deficit with China and other countries.
The U.S. National Association of Manufacturers estimates the bill will boost U.S. manufacturing output by 4.6 billion US dollars and support about 90,000 jobs.
Editor:Xiong Qu |Source: CNTV.CN