Watch Video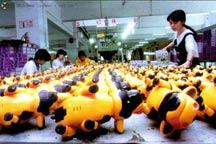 Play Video
A new toy safety directive will be implemented in all EU countries from July next year. The regulations are the most stringent to date, and will undoubtedly impact Chinese toy manufacturers. We take a look at how Chinese toy makers are responding to the new challenge.
Dongguan, in Guangdong Province, is also known as the world's toy factory. Local manufacturers say higher requirements in environmental protection compel them to pay more when procuring materials.
Lin Qiqiang, Manager of Dongguan Toy Manufacturer said "Roughly speaking, the cost may increase by 13 percent. If our negotiating skills can't be improved, companies like ours may become bankrupt."
The toy makers are facing tough times ahead. Once the new directive comes into effect, toys made in China will have to go through double the number of safety inspections.
In addition, they also have to have their products tested more often as inspection standards vary from country to country.
Lin Qiqiang said "The EU inspection is different from that in the U.S.. One product has to be tested twice if it is sold in both markets. That increases our costs too. "
In the face of stricter regulations for overseas exports, smart toy makers are eyeing the enormous untapped potential of the domestic market.
Currently, 360 million of China's population are under the age of 16. And each of them only spends an average of 20 yuan or around 3 U.S. dollars on toys a year. That's much lower than toy consumption in other Asian countries. The potential Chinese market is worth around 30 billion yuan.
Lin Qiqiang said "We have just launched our products in the domestic market with a new registered brand. Business has grown 3 percent every month since March."
The local toy makers' association says Dongguan factories are working to expand their share in the domestic market, from 20 percent to 50 percent. Their very survival is dependent on exploring options other than overseas exports.
Editor:Xiong Qu |Source: CNTV.CM