Watch Video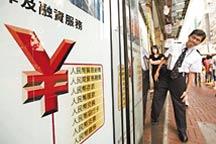 Play Video
Renminbi deposits in Hong Kong have hit a record high in June. As the economic ties between the Chinese mainland and Hong Kong special administrative region become more interconnected, Renminbi financial products are also seeing greater popularity in Hong Kong.
The Hong Kong Monetary Authority says Renminbi deposits in the SAR increased to 89.7 billion yuan in June this year, the highest level since Hong Kong allowed yuan accounts to be set up in February 2004. Yuan savings in the SAR rose 60 percent in June from a year earlier.
The monetary authority says Renminbi deposits have seen an average monthly growth of 7 percent since the beginning of this year. Analysts predict that due to the anticipation of a rising yuan, renminbi deposits in Hong Kong will grow faster in the near future.
Wang Qing, Economist of Morgan Stanley said "Judging from current situation, Renminbi deposits will definitely exceed 100 billion yuan."
On July 19th, the Chinese mainland and Hong Kong SAR signed an agreement, lifting restrictions on circulation and use of renminbi in the city. One day after the announcement, banks including HSBC and Standard Chartered started offering higher-yielding yuan products to the city's residents.
Wang Qing said "Hong Kong residents are eager to hold Renminbi and yuan-denominated assets, as the economic relationship between Hong Kong and the mainland becomes closer in both the financial sector and real economy.
More financial institutions in Hong Kong are promoting renminbi products. Local investors are hoping to take advantage of the fast economic growth in the mainland to yield high returns. Experts say Hong Kong's financial platform is mature enough to provide services to various renminbi-related financial transactions.
Related stories
Editor:Xiong Qu |Source: CNTV.CN