Watch Video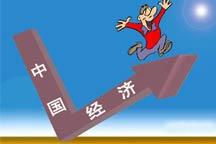 Play Video
The newly released figures show Japan's economic growth slowed markedly in the April-June quarter, pushing Japan's GDP behind China's on a nominal dollar basis. The figures are seen by many as China's surpassing of Japan as the second-largest economy in the world. Yin Hang takes a look at how Japan is responding to the news.
An estimate by Japan's Cabinet Office shows the country's second quarter GDP before seasonal adjustments totaled around 1.29 trillion U.S. dollars, against China's second-quarter unadjusted GDP of 1.34 trillion U.S. dollars.
But Japanese government officials say the comparison is misleading, as the calculation methods differ between the two nations.
Satoshi Arai, Japanese Economic Minister said "Whoever is top or bottom has no meaning. It only represents each country's current economic health. Our country's development closely follows that of China's and other Asian nations', and that is also part of our growth strategy."
Analysts add most people had been expecting China to overtake Japan, and the issue was mostly a political one. But they say economically, it's not all bad news for Japan.
Hideki Matsumura, Senior Economist of Japan Research Institute said "However, there is a large positive element in that with more growth in China, more people will be buying Japanese products. So overall the development of the Chinese economy is a good thing for Japan."
On the streets of Tokyo, the news was not all that surprising but opinions were mixed.
Yasutoshi Furuta, one businessman said "I think the reason for this is South Korean or Chinese as people are more "driven" than the Japanese."
Some say Japan only have themselves to blame, with an economy that's stagnated in recent years. For others, it's high time to look more and more to China for future opportunities.
Editor:Xiong Qu |Source: CNTV.CN