Watch Video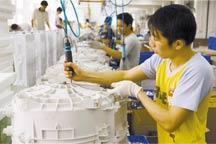 Play Video
Experts say the latest figures regarding SOE performance, refute the idea that they usually operate with low efficiency.
In recent years, the state asset regulator has strengthened supervision of senior executive management results. SOEs have also sought top management from overseas. Large amounts of private investment have been allowed into traditionally monopolized sectors, such as oil and telecommunications, in order to boost market competition. A number of SOE's are also listed firms, meaning supervision from shareholders has also improved their development.
Professor Wang Jianguo, Peking University said "Firstly, the companies must assume their own gain or loss. The second is market competition. The fuller the competition is, the more efficient the resource allocation and company operation are. Thirdly, companies should seek talent through public recruitment. With these conditions, SOEs can also perform with efficiency."
Editor:Xiong Qu |Source: CNTV.CN