Watch Video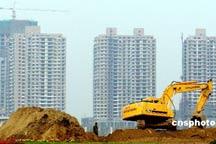 Play Video
Four months after that series of control policies were implemented to crack down on the real estate sector, listed property developers are still reporting "glowing" returns. Many are beginning to wonder whether more serious policies should be implemented.
Property developer Gemdale posted 320 percent growth in its first half, profit compared to the same period last year.
China Merchants Property Development, Poly Real Estate Group and Vanke all posted growth, at a rate of 115 percent, 16 percent and 11 percent respectively.
The performance has been re-assuring for the companies. Vanke said it expects this year's profit to surpass last years.
Some experts say real estate investment is still growing fast. And that further tightening policies are necessary in order to really stabilize the market.
Professor Fan Gang, Peking University said "The real estate investment is growing at a rate of 37 percent. In addition, house prices in the second and third tier cities, which are a major part of China's property market, are not slowing."
Wang Juelin, Official of Ministry of Housing & Urban-Rural Dev't said " If control policies loosen, the real estate market may be harmfully affected. House prices may rebound quickly. That means not only control policies fail, but also the whole market and consumers are harmed."
But some say further tightening policies should not be issued. They pointed out the current policies have already achieved results as developers are lukewarm about obtaining land and slowing down building new homes. If further policies come out, house prices may fall but the market might see large fluctuations.
Editor:Xiong Qu |Source: CNTV.CN