Watch Video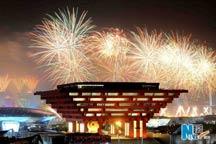 Play Video
The ongoing Shanghai World Expo has not only created a visitor boom for China, but is also expected to boost the nation's foreign trade. A non-governmental foreign trade organization made the forecast, saying this will be realized through better understanding between China and the world.
China's foreign trade has expanded rapidly over recent decades. But the nation has also encountered increasing trade barriers worldwide and trade disputes one after another. This has been especially the case amid the global financial crisis.
Vice Chairman of the China Council for the Promotion of International Trade said the Shanghai World Expo will help solve the problem. It wants to provide a platform for better understanding between China and other countries.
Wang Jinzhen, Vice Chairman of China Council for the Promotion of Int'l Trade said "The World Expo provides overseas delegations an opportunity to negotiate with their Chinese counterparts face-to-face. This will help both sides to get to know each other, and in turn, create a sound trade environment."
More than 190 countries are participating in the World Expo. Participants have already taken advantage of the platform to enhance trade ties with China.
Wang Jinzhen said "Since the beginning of Expo, we have seen participants use every opportunity to boost trade cooperation with China. They cover areas like commodity trade, services and the financial sector. Chinese provinces, municipalities and cities have also initiated activities to seek further trade agreements. So I believe the event will further enhance China's economic and trade relations with foreign countries."
China's foreign trade volume in the first seven months grew around 40 percent, to reach over 1.6 trillion U.S. dollars. The trade surplus contracted 21 percent, as growth in imports outpaced exports during the period.
Wang Jinzhen expects an upward trend in import growth, with the government's pro-consumption measures domestically.
Editor:Xiong Qu |Source: CNTV.CN