Watch Video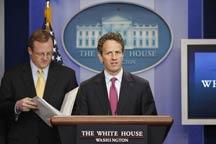 Play Video
U.S. Treasury Secretary, Timothy Geithner, is calling for fundamental reform of the nation's housing sector. Geithner made the remarks at a conference on housing finance in Washington D.C. on Tuesday. He also says it's important for the government to continue guaranteeing mortgage loans.
The Obama administration is calling for fundamental change at Fannie Mae and Freddie Mac, and looking for ideas for an overhaul plan in January.
At a conference billed as a listening session, and attended by the mortgage sector's top lenders and investors, Treasury Secretary Tim Geithner spoke about the role of the mortgage finance giants in the economic collapse.
Tim Geithner, US Treasury Secretary said "These strategies were not the sole cause of the financial crisis but they made the crisis worse and they resulted in huge losses for the taxpayer and these were avoidable failures and it is our responsibility to make sure that we create a system that is not vulnerable to these same failures happening again."
Options range from full nationalization at one extreme to privatizations with no government support at the other.
It's been almost two years since the government rescued Fannie and Freddie from collapse, and since then the two firms have received nearly 150 billion dollars in taxpayer bailout money.
The housing market continues to suffer, US housing starts rose at a much weaker pace than expected in July, and permits hit a 14 month low.
The problems with Fannie Mae and Freddie Mac were not addressed in the recent Wall Street reform legislation, a gap which has been criticized by Republicans.
Related stories
Editor:Xiong Qu |Source: CNTV.CN