Watch Video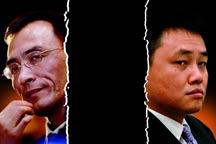 Play Video
China's largest electrical appliances supplier, Gome, is being plagued by an ugly internal dispute. On August 5th, the conflict between disgraced former company chairman Huang Guangyu and other shareholders became public. Since then, the market value of Hong Kong-listed Gome has shrunk by over 9 billion Hong Kong dollars. Now let's take a closer look.
On August 5th, Gome announced it was launching a lawsuit against its former chairman Huang Guangyu. That was in response to Huang's request to unseat his replacement, Chen Xiao. The dispute escalated, and led to a decline in Gome's share price on August 6th.
On the same day, institutional shareholder Fidelity reduced its holding ratio from about 5.5 percent to 4.3 percent. Morgan Stanley reacted differently, increasing its ratio slightly to 6.6 percent.
Analysts say institutional investors' responses may affect how the Gome dispute will play out.
The latest figures from the Hong Kong Stock Exchange show that Huang holds about 34 percent of Gome shares. JPMorgan accounts for 9 percent, Morgan Stanley 6.6 percent and Fidelity holds 4.3 percent.
Analysts are speculating on how the drama will unfold. Bain Capital, which supports the current management, could exchange its convertible bonds into shares. That would mean Huang's share holding ratio will be diluted to less than 30 percent, with Bain holding 10 percent. And if Morgan Stanley, JP Morgan and Fidelity choose to stand by Gome's management, that will deal a severe blow to Huang's campaign to remove Chen Xiao.
Related stories
Editor:Xiong Qu |Source: CNTV.CN