Watch Video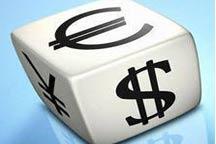 Play Video
The market is abuzz with talk about China's bullish turn to European and Japanese bonds, at the expense of the U.S. A former official of the People's Bank of China says China has been snapping up European bonds. Yin Hang looks at some differing views, on China's efforts to diversify its foreign reserve.
China currently holds 2.45 trillion U.S. dollars of foreign exchange reserves, the largest in the world.
Yu Yongding, a former member of the central bank's foreign-policy advisory committee, says the nation has been buying "quite a lot" of European bonds. He says diversification is a basic reserve management principle.
China trimmed its holdings of U.S. treasury debt by 24 billion dollars, to about 840 billion dollars in June. It's the second consecutive month of decline.
It also boosted its holdings of Japanese government bonds in June by about 5.3 billion U.S. dollars. This is the sixth consecutive month of increase.
Xiang Songzuo, Professor of Renmin University of China said "I think the principle to manage the reserve money as the same with the individuals to manage their deposits. So don't put the money in to one basket. So the diversification is the first principle in managing any assets. We should diversify our reserves into more channels such as..."
China's purchases of European bonds come in the wake of measures taken by European policy makers, to allay concerns the sovereign-debt crisis will threaten the single currency union.
Some foreign experts say it shows China holds an optimistic view of the European economy, and a loss of confidence in the U.S. economic recovery.
David Marsh, Co-Chairman of Official Monetary & Financial Inst. Forum said "The US treasury bonds yields low returns to investors...So the Chinese government has to be looking other alternatives... "
Experts are saying the profitability for some euro bonds is quite high.
David Marsh said "I won't surprise at all, if the Chinese authorities is now looking very closely at range of different issuing euro denominated bonds and profiting from it. In fact the return for some of them are quite high."
Related stories
Editor:Xiong Qu |Source: CNTV.CN