Watch Video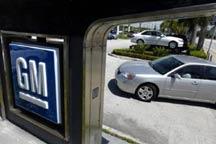 Play Video
General Motors is taking a big step towards repaying its controversial taxpayer-funded bailout. The auto giant says it plans to hold a landmark stock offering. GM says it will list the shares on the New York Stock Exchange and the Toronto Stock Exchange. The IPO announcement comes amid a still-weak global market for cars, and an industry that remains vulnerable to a further downturn.
General Motors has just set the wheels in motion to rid itself of its "Government Motors" moniker.
The auto giant, that was bailed out by taxpayers to the tune of 50 billion dollars, filed its paperwork with the Securities and Exchange Commission for an initial public offering worth up to a nominal 100 million dollars.
That amount does not represent what the company expects raise. The offering will allow the U.S. government to begin selling part of its 61 percent stake in the company.
GM has been gearing up for the offering since being taken over by the government. It has gotten rid of poorly performing brands, recently acquired an auto financing division and has posted a profit for two consecutive quarters.
John Eade, President of Argus Research said "I would suspect that the IPO financial are going to look pretty positive otherwise the government and management would delay the IPO. They don't have to do it right now."
GM will be offering a hundred million dollars in preferred stock along with a hundred million in common stock. The preferred stock, which will pay dividends and provide more protection in the case of bankruptcy, is meant to attract a greater pool of investors. The company said it would not be selling any of its stock in this offering so will not be receiving any proceeds from the sale. The U.S. Treasury said it would be selling some of its common stock but none of its preferred stock in the IPO.
One issue has centered around whether retail investors should be able to get in on the action given it was taxpayers that tossed the company a lifeline.
Philipp Schnabl, Assistant Professor of Finance, Stern School of Business said "There should be possibilities for private investors to participate but it doesn't necessarily mean that they should get a better deal than they would otherwise if they invested in another IPO. The primary objective really is to get the highest return for the taxpayers who already put out the money not for new investors whether they are private or institutional."
After the initial offering, the stock will be listed on both the New York Stock Exchange and the Toronto Stock Exchange. The pricing of the shares will be determined closer to the sale, which is expected to take place in November.
GM hopes the IPO will raise between 14 and 18 billion dollars. If it roars past that amount, it could become the largest IPO in U.S. history.
Editor:Xiong Qu |Source: CNTV.CN