Watch Video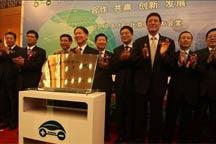 Play Video
Sixteen Chinese central stated-owned electric vehicle companies have teamed up to form an industrial association in Beijing. The move is in response to the government's latest policies, to boost the country's electric vehicle industry in the next three years.
The alliance of the central state-owned companies marks a step forward in China's development of green cars.
The Electric Vehicle Industry Alliance is led by the State-owned Assets Supervision and Administration Commission of the State Council, or SASAC. The non-profit organization says its short term goal is to promote the unification of electric car-related technologies. Its medium and long term goal is to master core technology in the sector, and build internationally-competitive Chinese electric car brands.
The head of SASAC says he has confidence in the industry's development.
Li Rongrong, Minister of SASAC said "In June, I visited some overseas electric car manufacturers. The trip consolidated my determination to develop green vehicles. The central SOEs should take the lead. Although there may be risks and it may cost a lot, the market is also huge. Once they succeed, central SOEs will benefit eventually."
Li also says SASAC will invest 1.3 billion yuan into the organization. And the association members are expected to put in a total of 100 billion yuan by 2012.
But the formation of the group is raising concerns, with some saying it may create another state-monopolized industry. Li Rongrong doesn't share these worries.
Li Rongrong said "The development of electric vehicles needs both strong technological and capital support. The market also weighs in. No single company in China right now can make it alone. What I can do is team up central SOEs to pioneer the sector. It's not useful for everyone to rush in, if we haven't yet seen the road. After the initial period, we'll be open to involvement by all kinds of companies."
Alliance members are also welcoming the move.
Lin Zuoming, General Manager of Aviation Industry Corp. of China said "The alliance unifies us as one. It also makes our responsibilities clear. We are now more focussed about each other's needs and what each company can do."
Chinese central SOEs recently announced they will take on new energy vehicles as their new business. But they haven't yet worked cooperatively, instead plowing ahead individually. It's hoped the alliance will help concentrate all useful resources on promoting the electric car industry.
Editor:Xiong Qu |Source: CNTV.CN