Watch Video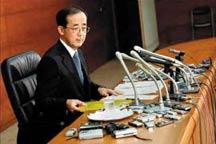 Play Video
Japan's central bank could consider easing monetary policy next month, but is in no mood to act now. That's despite speculation that persistent yen gains may nudge it to act before its September rate review.
Analysts say the Bank of Japan could loosen its already-easy monetary policy at an emergency meeting, before or shortly after Monday's expected meeting between its Governor and Japan's Prime Minister. But the central bank is unlikely to act before its September policy meeting, unless the yen heads towards an all-time high, above 80 to the dollar at a pace of 2 to 3 yen in a single day.
It's said that the BOJ Governor is hesitant about further action, given the economy is on track for a moderate economic recovery.
Insight: Will Japan's economy continue to slow?
Editor:Xiong Qu |Source: CNTV.CN