Watch Video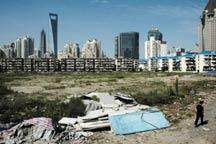 Play Video
In China idle land has become a major problem. The nation's land authority says most illegal land use cases are related to undeveloped land. So the authority is calling for tightened supervision nationwide.
The Ministry of Land and Resources says that by the end of May, it had identified more than 3000 plots of illegally-used land, with an area of almost 13-thousand hectares. Most was left undeveloped.
Liao Yonglin, Director-General of Department of Land Use & Admin., MLR said "Over 2-thousand plots of such land were undeveloped. That's around 11,300 hectares. Both the number and area account for around 90 percent of the total."
Liao also said most plots of idle land were due to governmental factors, such as city planning and expansion.
The land authority figures also show that the eastern region had the largest area of undeveloped land accounting for 2 thirds of the total.
Of the unused land, most had been left idle for less than five years. But a third had remained undeveloped for more than five years.
The land watchdog is calling for land authorities at different levels to enhance cooperation with local authorities, to tighten supervision on land use.
China has sped up efforts to crack down on land hoarding in an effort to curb the red-hot property market. Earlier this month, the Ministry of Land and Resources put owners of idle land on notice. 80 percent of those are expected to be taken back by the government.
Editor:Xiong Qu |Source: CNTV.CN