Watch Video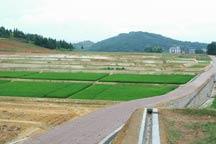 Play Video
China's sky-high property prices are causing headaches for home buyers. Now one Chinese property expert is recommending better use of the country's vast rural lands, to help boost supply and take the pressure off prices.
Vice Chairman of China Real Estate Research Association, Gu Yunchang, says the imbalance between property supply and demand is the key reason for nation's skyrocketing housing prices. So to curb the increase, the government should increase housing supply. But developers now have very limited land resources. Gu suggests the government make full use of rural land. Currently, property developers are banned from developing rural land for any purpose.
Gu Yunchang, Vice Chairman of China Real Estate Research Association said "Currently, rural land is not allowed to enter the urban property market. And any purchase of rural houses by urban residents is also illegal. In contrast, farmers are encouraged to move to towns and cities. But they can't afford an urban house at all. We are pushing ourselves into a dead end."
Gu also suggests encouraging residential demand while cracking down on speculative demand. But he says a fundamental solution still lies in systematic reforms of land, fiscal and finance.
Gu also forecasts housing prices won't drop significantly in the second half, but will remain stable.
Editor:Xiong Qu |Source: CNTV.CN