Watch Video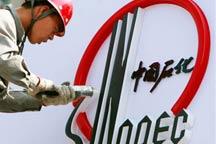 Play Video
A number of mainland listed heavyweights issued their half year earning reports over the weekend. Now let's take a quick look.
China Construction Bank, the country's second largest bank, says its net profit in the first half of this year jumped 27 percent. Key contributors to the rapid year-on-year growth of net profit were increased credit supply, service and product innovation, and decreased impairment losses.
Sinopec's net profit in the first half of this year edged up 6.7 percent. China's top refiner attributes "encouraging operational results" in the first half, to the steady progress of China's economic recovery and growing demand for petroleum and petrochemical products.
And Wuhan Iron and Steel Company says its net profit rose more than 90 percent year, as strong economic growth boosted steel demand and prices. But China's third largest steel maker is likely to face a difficult time in the second half of 2010. Meeting its full-year profit target will become a "challenging task", as demand from the auto, home appliance and real estate sectors experienced "drastic changes" since July, leading to more restrained sales and falling prices.
Editor:Xiong Qu |Source: CNTV.CN