Watch Video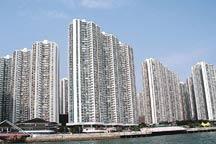 Play Video
Hong Kong's local government will take more measures to curb speculation on the housing market, and prevent property bubbles.
The proposed efforts include supplying more land, tightening mortgage lending and banning the resale of unfinished new homes before transactions are completed.
The market reacted quickly. Just a few days after the issuance of the new policies, the transaction volumes of both new and pre-owned homes decreased by over 50 percent.
Local residents agree with the government's stance, and welcome the new policies.
One resident in HK said "The prices, like in Shenzhen, have been shooting up. If prices can be stabilized and become cheaper, those who don't have homes can afford one."
Analysts aren't convinced the new measures will achieve what the government is hoping. They believe the effects will only be for the short-term.
One industry insider said "It may have some impact over the markets' as well as buyers' mood. But the impact will soon fade. I think the government has failed to find what's actually behind this price hike."
Analysts also say the move aims to stabilize Hong Kong's property market, which has been plagued with fluctuations. And that's caused many problems for the local financial system, hindering prospects of economic recovery.
Editor:Xiong Qu |Source: CNTV.CN