Watch Video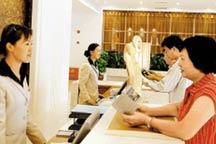 Play Video
Hotel rates in Shanghai have been soaring since the World Expo opened more than three months ago. In August, it became easier to book rooms in four and five-star hotels. But budget options are still in short supply.
Since the 2010 World Expo opened in May, the monthly occupancy for Shanghai hotels has been maintained at between 75 percent and 85 percent, 30 percent higher than last year.
High-end hotels have seen an almost 30 percent price increase, while the prices of budget and mid-range hotels have seen an even more significant rise.
The World Expo hotel reservation service provider says the going rate of four and five-star hotels have experienced a decline. That's due to the high summer temperatures, and a fall in the number of visitors.
Students and families form the majority of World Expo visitors. As a result, budget and mid-range hotels, priced between 300 and 500 yuan, are in short supply.
Zhang Dian, CEO of Hubs1 said "The rate of more economic accommodation is always high. The prices have increased a lot, by 80 percent on last year. But even the inflated prices are still reasonable. They are between 300 and 400 yuan."
It is estimated the occupancy rate of Shanghai hotels is around 80 percent, based on the figure of 400 thousand World Expo tourists a day.
With the current number of tourists, Shanghai's hospitality industry isn't yet running at full capacity. But activity will see an increase in September and October, because of the National Holiday and World Expo closing events. Experts are recommending tourists to plan well ahead.
Zhang Dian said "Book rooms as early as possible, because you can get more favorable prices. Besides, tourists shouldn't only consider hotels around World Expo park. Since Shanghai has a very good public transport system, tourists can choose hotels along those subway lines. It is also very convenient."
If the number of World Expo tourists in one day exceeds 650 thousand, the hotels in central Shanghai will see full occupancy. But there are still many hotels in more suburban areas to accommodate tourists. Hotels in Zhejiang and Jiangsu provinces, only two hours away from Shanghai, can also accommodate many tourists during peak season.
Editor:Xiong Qu |Source: CNTV.CN