Watch Video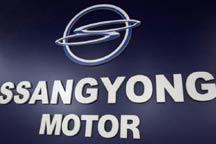 Play Video
South Korea's Ssangyong Motors says it's signed a memorandum of understanding with India's leading motor company Mahindra. The two companies will make a combined effort to explore the market with new products.
Mahindra was announced as the preferred bidder for Ssangyong Motors in early August. Both companies are expecting to reach a preliminary agreement by the end of the month, and sign a full contract in November.
Heads of the two companies say the merged entity will play a strong role in the global sports utility vehicles market.
Anand Mahindra, Vice Chairman of Mahindra Group said "We are interested in the investment in Ssangyong Motors primarily because we see a very strong strategic fit between the two companies, and our main goal is that by combining Ssangyong and Mahindra, we think we can build a very strong global company with a specific strength in the utility vehicle area."
The company plans to introduce a pick-up truck in the U.S. later this year.
Analysts say the purchase may also include Ssangyong's SUV and small-car expertise, and give broader access to markets, including Russia, where the South Korean company exports vehicles.
Anand Mahindra said "Our goal also is to use Ssangyong products in the very fast expanding Indian market and in other key emerging markets around the world, where we believe Ssangyong still has a very strong and resilient brand."
Mahindra was established in 1945, and was first known for assembly of the iconic Jeep in India.
Since February 2009, Ssangyong, South Korea's smallest vehicle maker, has been under court protection after Chinese Shanghai Automotive Industry Corporation left the company during the global financial crisis.
The company sold almost 44 thousand vehicles in the first seven months of this year.
Editor:Xiong Qu |Source: CNTV.CN