Watch Video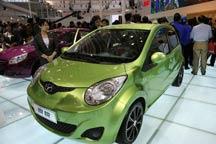 Play Video
The Chinese government has extended its subsidy for vehicles with small engine capacity until December this year. Buyers of 71 models under 1.6 litres could be granted a 3,000 yuan subsidy. But it seems consumers aren't that enthusiastic about the news.
Mr. Zhao lives in Dalian, and he's taken a fancy to Elantra's Rui Dong model at the auto expo. He checked the details of the government's subsidy policy before coming to the expo. The Ministry of Finance will give 3,000 yuan to manufacturers, who will then pass the money to dealers, and lastly to consumers. But the reality seems even more confusing.
One auto salesperson said "The original price is 99,800 yuan, but now we're selling at 88,800 yuan at the expo -- which is 10,000 yuan cheaper than usual. So the 3,000 yuan subsidy is already included."
But Mr. Zhao says manufacturers should refund the 3,000 yuan directly to consumers, rather than accounting for the money in other discounts and promotions.
Mr. Zhao, Dalian citizen said "I feel confused by this. It's better to give me the 3000 yuan directly."
Most visitors at the auto expo say they don't understand the subsidy policy at all. Industry insiders argue the price for small emission cars is comparatively low, and the profit margin is quite small. So some dealers are getting tricky with the subsidy policy.
Editor:Xiong Qu |Source: CNTV.CN