Watch Video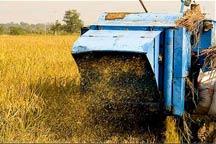 Play Video
Autumn's grain production is vital to China's food security, as it accounts for 70 percent of the annual output. But a recent spate of unusual weather conditions have impacted this year's harvest, pushing up food prices. The Ministry of Agriculture says the situation is stable, but challenges remain.
It's estimated China's autumn grain production covers about 77 million hectares, slightly more than last year. Corn and rice have seen good growth in major crop fields. But uncertainties remain, as there's still a month to go before harvest.
In Nanling county of Anhui Province, heavy rain has affected the region's autumn production. Farmers have had to plant rice seeds later than usual. And this delay increases the risks of damage to the harvest caused by lower temperatures.
Song Weibing, Director of Agro-Technique Center, Nanling County said "A small amount of damage will mean a 10 percent loss. A medium amount of damage - 20 to 30 percent loss. If severe, 50 percent will be lost."
Other than low temperatures, crops are also threatened by infectious bugs. The Ministry of Agriculture says plant diseases are common this year. In the Northeast, grain production is also in the balance, as early frost may deal a heavy blow after delayed planting in spring.
Editor:Xiong Qu |Source: CNTV.CN