Watch Video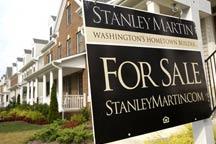 Play Video
Sales of previously-owned U.S. homes took a record plunge in July, to their slowest pace in 15 years. Analysts say it underlines the housing market's struggle to find its footing without government aid, and concerns over a double-dip recession.
Tuesday's report from the National Association of Realtors was much worse than market expectations. It's the latest data to indicate economic activity continues to slacken into the third quarter. According to the National Association of Realtors, the plunge was over 27 percent from June - twice the number forecast. Analysts explained the dramatic pullback is due to the expiration of federal tax credits for first time home buyers at the end of April.
Ward MaCarthy, Chief Financial Economist of Jefferies and Co. said "We went through a period where housing was temporarily boosted by a tax credit. Now we're going to go through a period of time where housing is temporarily depressed because the tax credit borrowed from future sales and that's where we are now. So I think we will continue to see some weak numbers at least one more month, probably a second month before we can start to look for some signs of stability."
This analyst says investors might even have to wait until the release of the October housing data, to get a sense of the level at which home sales will stabilize.
Ward McCarthy said "But it will be at least the September data, possibly even October before we really have a sense of what is the level at which home sales are going to stabilize. I think it's probably going to be around the five million unit level, perhaps just a little bit above that, which is very low. But it's an indication that the housing sector is trying to form a bottom, and would be bumping along the bottom right now except that you have these on again off again stimulus programs that come out of Washington that really don't accomplish anything."
Other analysts see the housing report as a red flag for the country's economic health. They fear Americans are in a psychological knot - ignoring rock-bottom interest rates and low home prices, and instead worrying about finding or keeping a job.
Related stories
Editor:Xiong Qu |Source: CNTV.CN