Watch Video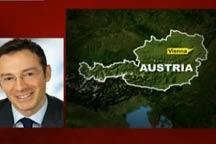 Play Video
On the diverging growth prospects in different parts of the world, we have Roland Neuwirth from Salus Alpha Capital. The alternative investment firm is based in Vienna, Austria. Hi Roland.
1. Good news that Germany confirmed breathtaking growth. Do you think that result, heavily dependent on exports, can be sustained as the recovery signs remain unclear in other parts of the world?
2. Concerns are also raised about mounting government debts. It's raised the need for more austerity measures, which could further dampen consumption. How will the factor affect developments in the coming months of the year?
3. Despite solid growth for the eurozone economy in the second quarter, we can't deny there's a significant growth disparity among European countries. Is the real picture as rosy as the figure shows?
4. Many have jumped to the conclusion that the eurozone has coped with the debt crisis better than expected. Do you agree with that assessment? Or could we say Eurozone is doing better than other parts of the world in terms of recovery?
Roland, you seem quite realistic about Europe not being the center of the action any more. Thanks for sharing your thoughts with us.
Editor:Xiong Qu |Source: CNTV.CN