Watch Video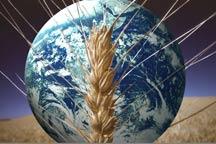 Play Video
The world experienced a global grain crisis between 2007 and 2008. These years saw grain prices soar, and exports drop, causing social unrest and famine in many parts of the world.
The most recent global grain crisis began in June 2007. By March 2008, global grain prices had risen by 40 percent. The global food reserve was only sufficient to last for 53 days. In April 2008, the International Monetary Fund released a stern warning, that sharp rises in food prices could trigger war.
To reserve more grain, many countries made policy changes. Morocco cut its wheat import tariff from 130 percent to 2.5 percent. The European Commission suspended most tariffs on grain imports. Cambodia and Egypt banned rice exports altogether. Vietnam and India, the world's second and third biggest exporters of rice, both raised prices and lowered exports. The panic for grain triggered turbulence in many areas in the world. A UN report revealed 1 billion people were in famine, or on the brink of famine in 2008.
But what's puzzling is global grain output didn't see a drop, as might be expected. The annual grain output reached 1.6 billion tons between 2007 and 2008, up 5.7 percent year on year. Analysts say grain used for energy that's increasing overall grain consumption. The amount of grain used to fill a car's gas tank is enough to feed a person for a year. Global warming and its effects, including more frequent floods and drought, have also impacted the world's grain production.
Editor:Xiong Qu |Source: CNTV.CN