Watch Video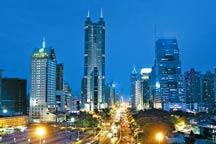 Play Video
The State Council has approved Shenzhen's development plan for 2010 to 2020. It outlines ways the special economic zone can make itself more sustainable, and prosperous.
The State Council wants the Shenzhen special economic zone to promote its economic development transformation, upgrade the industry structure, and perfect public service facilities.
In order to build a conservation-oriented and environmentally friendly city, the plan offers a full set of efficient measures and targets. The city's total population will be controlled within 11 million, and urban construction land should be limited within 890 square kilometers.
Under the plan, Shenzhen is expected to become a more prosperous, harmonious, and modern city.
Wang Fuhai, Committee Member of Ministry of Housing and Urban-rural Dev't said "To practice the country's Scientific Outlook Development plan, one of the most important questions for Shenzhen is to realize a sustainable development of population, resources and the environment within the limited space and land. I think this is a special and stricter requirement for the city."
The plan also strengthens its connection with neighbouring cities like Hong Kong, and Guangzhou.
Livelihoods are another focus of the plan. Affordable housing is also included in the new construction plan, to offer better living quality.
Related stories
Editor:Xiong Qu |Source: CNTV.CN