Watch Video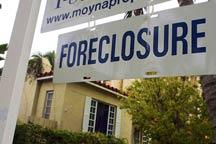 Play Video
The U.S. commercial real estate market has improved gradually in recent quarters, but remains weak. Though housing foreclosures are starting to ease, there are concerns they may resurface in the coming months.
Fewer Americans are seeing foreclosure signs on their front yards.
According to the Mortgage Bankers Association, the percentage of homes headed for foreclosure fell last quarter for the first time since the housing slump began in 2006.
But economists warn not to read too much into one piece of data, earlier this week there were two new reports showing big drops in home sales.
Jim Glassman, Senior Economist of J.P. Morgan Chase said "I hope what it means at a minimum is that maybe the foreclosure problem is cresting and not getting worse but I would be careful not to make too much out of a one quarter trend."
In fact that same report indicated that foreclosures could head higher in the next few months- since the percentage of borrowers who are at least one payment behind is back on the rise.
That's part of a cultural shift- where homeowners are making tough business decisions about their investments in their homes.
David Semmens, U.S. economist of Standard Chartered said "You've seen the firms operate in the best way for them and people are now thinking: well why shouldn't I operate in the best way for me. Why should I keep paying money for a home that is worth well below what I paid for it, when I can go and rent somewhere near for half as much?"
All this at a time when despite high unemployment, buying a home continues to get more affordable. Freddie Mac data out Thursday showed US mortgage rates hit yet another historic low. The rate for a 30-year fixed rate mortgage averaging just 4.36 percent.
Editor:Xiong Qu |Source: CNTV.CN