Watch Video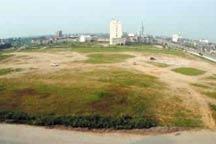 Play Video
The practice of land hoarding is being widely blamed for China's skyrocketing property prices. In Guangzhou, many pieces of land have been left idle after being auctioned. We takes a look at the reasons behind this practice.
This piece of land in Guangzhou remains undeveloped, after being purchased by a local developer 10 years ago. After being fined for leaving the land idle, the developer says it plans to begin construction of housing projects. But to date, nothing concrete has been done.
In 2000, the developer paid about 1.8 million yuan for the land. With the additional fine, the total cost of the land amounts to 2.2 million yuan. But now it's worth about 800 million yuan. The developer has made his money back 400 times over, by doing nothing.
Yin Zhongli, Researcher of Chinese Academy of Social Sciences said "Developers want to leave land idle. They have a simple motivation. After 2004, the longer you leave the land undeveloped, the more money you can make. Considering that, it will be hard for developers to actually develop land."
This piece of land is overrun with weeds, but is actually located downtown Guangzhou. It was sold 13 years ago and was meant to have been developed by the end of 2001. The current status of the land is a severe violation of the contract of sale. But the developer says it was forced to leave the land idle, due to changes in city planning.
Xie Hao, Official of Guangzhou City Land Resources and Housing Bureau said "This zone's planning has undergone several major changes since 1993. The developer is responsible for leaving this land idle. But we are also partly involved."
Chinese media has reported a total of 54 lots of idle land in Guangzhou. Local authorities say they have urged the developers of 33 pieces of land to begin construction within a deadline. They've also fined them a total of around 33 million yuan. That averages about one million yuan for each piece of land, and is a relatively light penalty for the amount of profit that can be made by hoarding the land.
Experts suggest the government should toughen up on penalties, and make the system more transparent. That way, developers have less reasons and excuses for leaving land idle.
Related stories
Editor:Xiong Qu |Source: CNTV.CN