Watch Video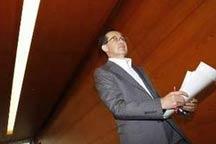 Play Video
Japan central bank has further eased monetary policy at an emergency meeting. It expanded its fund supply to banks, but kept interest rates steady. The moves are in response to a strong yen, and growing political pressure to take action on a faltering economic recovery.
The Bank of Japan board voted unanimously to keep its key interest rate at a super-low 0.1 percent.
The central bank has also expanded a bank-loan program. It will boost the amount of funds in the available by 10 trillion yen to a total of 30 trillion.
The central bank says the move will encourage a decline in market interest rates, and further enhance easy monetary conditions.
The former BOJ Deputy Governor says that while Japan may be struggling to deal with the yen near its highest in 15 years, its trading partners are comfortable with current foreign exchange levels.
Shijuro Ogata, Former Deputy Governor of Bank of Japan said "I would suspect that American and European policymakers are not unhappy with the weak dollar and weak euro."
To cope with the stronger yen, Japanese Cabinet ministers were also scheduled to meet on Monday. And the Prime Minister is also preparing a new set of economic stimulus measures. But economists say political stability is needed before any action is taken.
Shijiro Ogata said "Countries outside Japan, I am afraid, may look at Japan as a very politically fragile country firstly rather than at its weak economy. And of course, one prime minister alone or one government alone cannot solve the problems. However, I am hoping through a little bit of a confused process, a sign of political stability should be established."
Japan's export-driven economy faces growing uncertainty due to the strong yen and slowing global growth.
Sustained strength in the yen has squeezed exporters' profits. In the meantime, Japan's GDP growth slowed to 0.4 percent at an annualized pace in the second quarter, pointing to a slowdown.
Economists say if the economic outlook and market conditions get worse, the BOJ will likely announce additional easing measures.
Japan outlines economic steps amid yen worries
Japan has decided to compile economic steps for stimulus measures. It will allocate 920 billion yen in reserves from this fiscal year's budget. That's around 11 billion US dollars. The policy was announced a day earlier than expected. Full story >>
Japan gov't wants BOJ to act on deflation
The Japanese government has welcomed the Bank of Japan's decision to ease monetary policy. Finance Minister Yoshihiko Noda said the central bank's response was in line with government steps to support the economy. Full story >>
Despite the Bank of Japan's move to ease monetary policy, the yen still rose against the U.S. dollar on Monday. It was on speculation the action won't be enough to weaken the yen from a near 15-year high. Full story >>
Editor:Xiong Qu |Source: CNTV.CN