Watch Video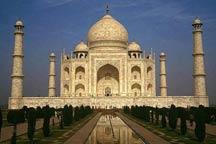 Play Video
India's economy grew at its fastest pace in nearly three years in the quarter ending June. Experts say strong manufacturing growth and farm output could keep the central bank on its tightening path.
The 8.8 percent expansion underscores continued growth momentum in Asia's third largest economy, amid growing uncertainty over the global recovery.
Economic doldrums in the same period of last year helped bolster growth rates. Some economists say that will begin to ease, as the low-base effect wears off, and central bank rate hikes take effect.
India's growth averaged nearly 9 percent before the recession. It dragged growth of the same period last year to 6 percent - the last quarter before India's economic rebound.
Experts say Tuesday's numbers are unlikely to jolt the central bank from its path of monetary tightening. The Reserve Bank of India has raised key interest rates four times this year in a bid to tame high inflation. But the effect of those hikes has yet to filter out to the real economy.
Despite the glittering headline numbers - quarterly manufacturing output surged 12.4 percent, record auto sales rose 38 percent in July, telephone connections up 36.7 percent in the quarter - economists say consumer demand remains narrow. They add the shadow of global economic uncertainty is constraining capital spending, and could disrupt industrial production and credit growth.
Editor:Xiong Qu |Source: CNTV.CN