Watch Video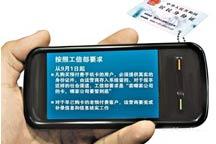 Play Video
A "real-name" registration policy will be implemented from the first of September, for Chinese mobile users in China. It's to protect the users privacy and prevent junk messages. Xu Zhaoqun takes a look at how effective the policy will be in Beijing.
It's now necessary to present your real name and information, if you want to apply for a sim card in Beijing.
But very few of the customers here are first time users. Many of them never come to the lounge because they can easily buy a sim card at newspaper kiosks, supermarkets and grocery stores.
Xiao Wang lost his mobile and the sim card. He's here to apply for a new card with the same number. And now, he has to show his id card.
Xiao Wang, Beijing Mobile Service User said "It should be a good thing. No one would send that rubbish to a phone if the number is registered with a real name. But I am afraid once my personal information is provided, it could be leaked, and abused. We've had enough precedents."
The service providers refused to speak about the policy on camera. But they admit this is very difficult.
A survey shows there are more than three hundred million mobile users without any registration on their numbers.
Kiosk owner said "We have been informed to register the real name and ID card number if someone wants to buy a sim card. So if you want to buy one, you have to show us your ID."
"The kiosk owner answered my question when the cameraman was behind me. A hundred meter away there is another kiosk. I went there alone. They told me money is the only thing needed for a sim card."
Thousands of the kiosks and small shops are doing the same despite the real name policy. It's a big challenge for policy makers who have vowed to register all the three million anonymous users in three years.
Related stories
Editor:Xiong Qu |Source: CNTV.CN