Watch Video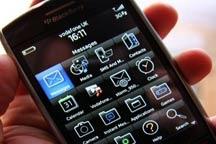 Play Video
BlackBerry-maker Research in Motion has come up with an interim solution to prevent India from shutting down its services, which would have affected one million users of the smartphone. As our reporter finds out, Blackberry subscribers in India are rejoicing for a 60-day extension during which the Indian government will review the situation.
Research in Motion has decided to give the Indian authorities access to its encrypted smartphone data, starting September 1.
The decision comes after weeks of discussions.
Onkar Kedia, Spokesperson of India's Federal Home Ministry said "RIM have made certain proposals for lawful access by law enforcement agencies, and these would be operationalised immediately. The feasibility of the solutions offered would be assessed thereafter."
New Delhi had threatened to shut down BlackBerry email services by Tuesday, unless RIM provided a way for officials to access email and messenger services.
Indian authorities are concerned that secure BlackBerry data could be used by militants to plan attacks.
And it's not just RIM. They are also pushing Google and Skype to set up local servers that allow full monitoring.
India says the situation will be reviewed in 60 days.
Meanwhile, BlackBerry users across India are happy for the extension. The Canadian-based wireless giant has more than a million subscribers in the world's second fastest growing economy. Sellers say the decision has boosted sales of the smartphone.
Raghav, Blackberry seller said "To tell you, the fact is that by doing this extension there is a little craze amongst the customers that there is a hope for blackberry to be in India still and by this the sale is boosted again, its not come down. Till now we have not got any false reaction from this statement at all. So I think it will be better still."
Though RIM has already made BlackBerry Internet, voice calls and messenger available to the authorities, India is seeking access to its unique encrypted service for business and corporate clients, that is routed through RIM's own servers based in the UK and Canada.
Editor:Xiong Qu |Source: CNTV.CN