Watch Video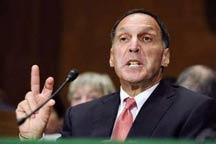 Play Video
Dick Fuld, the former CEO of Lehman Brothers, was on Wednesday's crisis investigation chopping board. He and six others were called to appear before the Financial Crisis Inquiry Commission.
Fuld has been mostly out of the public eye since Lehman's collapse. But now he may get to chance to tell his side of the story in court. The former CEO was recently named in the Times list of the 10 people most responsible for the recession.
Dubbed the "scariest man on Wall Street," Fuld has been blamed for a litany of mistakes that include leaving Lehman heavily exposed to toxic US sub-prime mortgage debt and other assets that collapsed. In Lehman's final months, a series of interested buyers surfaced to save Lehmans, but Fuld refused sell at the prices offered.
Related stories
Editor:Xiong Qu |Source: CNTV.CN