Watch Video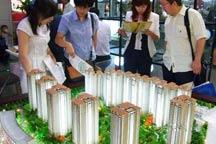 Play Video
A slew of data from property markets in major Chinese cities show a rebound in sales. Analysts say buying sentiment recovered after several months of waiting.
Sales of new homes in Shanghai jumped 70 percent month-on-month to 730,000 square meters in August, the highest in four months. Analysts say market momentum rebounded in August as some home buyers, who sat on the sidelines waiting for price cuts, finally decided to purchase. The average price of new homes also rose nearly 10 percent, mainly due to mid- to high-end houses being bought.
It's a similar story in Southern Guangzhou city. New home sales jumped more than 60 percent in August compared to a month ago. And average prices increased 2.2 percent. Analysts say the expanded sales were driven by increasing supply to the market, and the release of buying momentum after several months of waiting.
The rebounding momentum is milder in Beijing, where commercial housing sales rose 14.5 percent compared to July. Average prices edged down 0.4 percent from a month earlier. Analysts say the climbing sales were driven by price cuts in some property projects. And as more developers are adopting the strategy to attract sales, it may further drag down average prices in September.
In eastern Nanjing city, new home sales more than doubled compared to August. That was accompanied by an 8 and a half percent drop in average prices. But despite the encouraging sales figure, industry insiders say it's still to early to say the property market has recovered. Especially since the government is vowing to continue strengthening existing measures, that target the real estate market.
Insights:
Stephen Green, senior economist at Standard Charter Bank
Studio discussion: How to bring down house prices
Doctor Tang Min, deputy director of the China Development Research Foundation
Studio discussion: Why are property prices still too high despite curbing policies?
Related stories
Editor:Xiong Qu |Source: CNTV.CN