Watch Video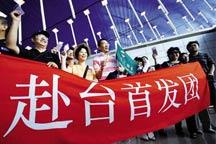 Play Video
In the two years since Taiwan opened up to mainland visitors, some two million mainland residents have toured the island. The figure was released by the National Tourism Administration and China Tourism Institute today. The number of visitors this year is expected to reach 1.5 million.
In the first seven months, 3,400 mainland residents visited Taiwan every day. That's ten times the number when the island first opened to mainland travellers.
Since July 18th this year, residents of all 31 provinces, autonomous regions and municipalities have been allowed to visit Taiwan. The upcoming national holiday and Spring festival are likely to cause a travel boom.
Dai Bin, President of China Tourism Institute said "Mainland travellers to Taiwan in the first half of the year surpassed the total number last year. The whole year's number is expected to exceed 1.5 million, double the number last year."
In the past two years, mainland travellers spent 66 billion new Taiwan dollars in the island, boosting Taiwan's tourism industry. Experts say the travel style is gradually making some changes.
Dai Bin said "Most of travellers used to be senior people in the past. Now more and more young people are joining in. They taking more leisure trips. Taiwan tours are becoming more and more common. Many travellers have visited more than once."
Surveys show that 85 percent of mainland travellers are satisfied with their trip. Tourism regulators from both sides have set up communication and negotiation systems to supervise the quality of tour services.
Editor:Xiong Qu |Source: CNTV.CN