Watch Video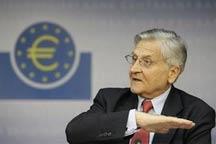 Play Video
The European Central Bank raised its growth projections for the 16-nation eurozone on Thursday, ruling out a double-dip recession. But ECB chief Jean-Claude Trichet stressed that the outlook remains uncertain, and left its benchmark refinancing rate at a record low of 1 percent for the 16th consecutive month.
The ECB raised its projection of eurozone growth this year from 1.4 to 1.8 percent. That's up from the mere 1 percent forecast in June.
Its growth forecast for 2011 is between 0.5 and 2.3 percent.
But speaking in Frankfurt following the ECB governing council meeting, Trichet remained cautious about the future despite the encouraging economic data.
Jean-Claude Trichet, President of European Central Bank said "So we had a succession of positive surprises. But we do not declare victory. We consider, as I said, that we are still in an uncertain universe. I already said that the double dip was not in the cards in our own analysis. Of course, I am even more inclined to say that after what we have observed a few months ago and now in real time."
The ECB offered no indication that it might rise its refinancing rate of one percent any time soon.
Jean-Claude Trichet said "Based on its regular economic and monetary analyses, the governing council continues to view the current key ECB interest rates as appropriate. It therefore decided to leave them unchanged."
Trichet said the ECB would stage three-month, fixed-rate tender operations in October, November and December. That reflects the desire to keep money flowing to the banking system in the aftermath of the debt crisis.
He also said the Eurozone bank would continue conducting one-week and one-month unlimited funding operations at least until January 18.
Editor:Xiong Qu |Source: CNTV.CN