Watch Video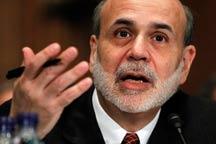 Play Video
US Federal Reserve Chairman Ben Bernanke says he was partly to blame for giving a wrong impression that the central bank could have saved Lehman Brothers from failure in 2008.
The remark came during his testimony before the congressional commission examining the causes of the financial crisis yesterday. He also thought it very likely that the investment bank was insolvent and lacked sufficient collateral to borrow enough from the central bank to avert collapse.
But he kept that view to himself in a separate congressional testimony, just days after Lehman's September 2008 bankruptcy. He says it was because he was worried that such comments might have spooked the already panicky financial markets.
The Federal Reserve is the central banking system of the US. It was created in 1913 with the enactment of the Federal Reserve Act. According to the official documentation, the Fed's duties today are to conduct the nation's monetary policy, supervise and regulate banking institutions, maintain the stability of the financial system and provide financial services to depository institutions, the US government, and foreign official institutions.
More about the story:
Investigation reveals politics may have doomed Lehman
In the latest from the ongoing investigation into the 2008 financial crisis, it turns out that politics may have doomed Lehman Brothers. According to the panel's chairman at Wednesday's hearing into the crisis, the decision to not bail out the beleaguered financial firm was a policy decision made by US officials. Full story >>
Former Lehman CEO testifies before FCIC
Dick Fuld, the former CEO of Lehman Brothers, was on Wednesday's crisis investigation chopping board. He and six others were called to appear before the Financial Crisis Inquiry Commission. Full story >>

In-depth:
Professor Patrick Chovanec from the School of Economics and Management of Tsinghua University
Studio discussion: Should US gov't have saved Lehman?
Douglas Blake
Telephone interview: New directions after "Too big to fail" policy
Editor:Xiong Qu |Source: CNTV.CN